Concerns of Being A High-Net-Worth Individual
When we say high-net-worth individual, what comes to your mind? Unlimited wealth, lavish lifestyle, and so on. But as the saying goes, "With great power comes great responsibility," it's important to be aware of the potential pitfalls that can threaten your wealth and to take proactive steps to avoid them. From the dangers of overspending and the risks of relying on poor financial advice to the importance of proper estate planning and protecting against scams and fraud, this blog has got you covered.
But it's not just external threats that can jeopardize your financial well-being as an HNWI. It's also important to be aware of the internal loopholes. From succumbing to the temptation of overspending and living beyond your means to letting your ego or emotions cloud your financial decision-making, there are a number of ways in which HNWIs can undermine their own success. 
In this blog post, we'll explore problems HNWIs may face and offer solutions for navigating them.
Let us start with understanding who an HNWI is.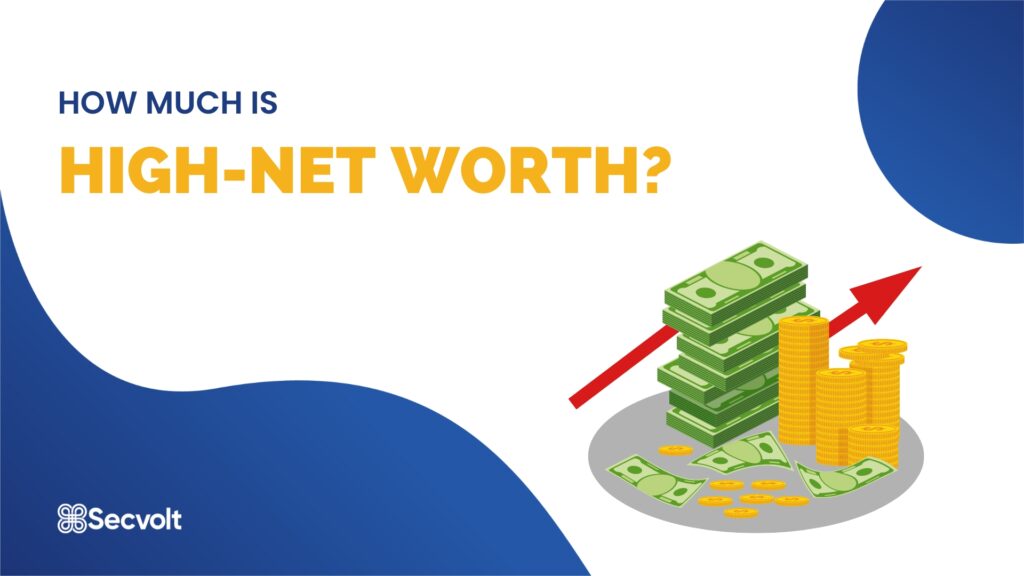 How Much is High-Net Worth?
A high-net-worth individual (HNWI) is someone who has accumulated a significant amount of wealth. This wealth is typically measured in terms of investable assets, such as stocks, bonds, and cash; these are what rich people are investing in. However, it can also include real estate, closely-held businesses, and other non-liquid assets.
An HNWI is someone with at least $1 million in investable assets. 
HNWIs may have built their wealth through their own hard work and successful business ventures, or they may have inherited it or received it through other means. Regardless of how they came to become wealthy, these individuals have significant bank figures to fall back on and are in a position to make a substantial impact with their wealth.
Now, being an HNWI is not only about wealth & riches. As mentioned before, it comes with its unique set of problems. In the next section, let's discuss some pitfalls/disadvantages that high-net-worth individuals might face.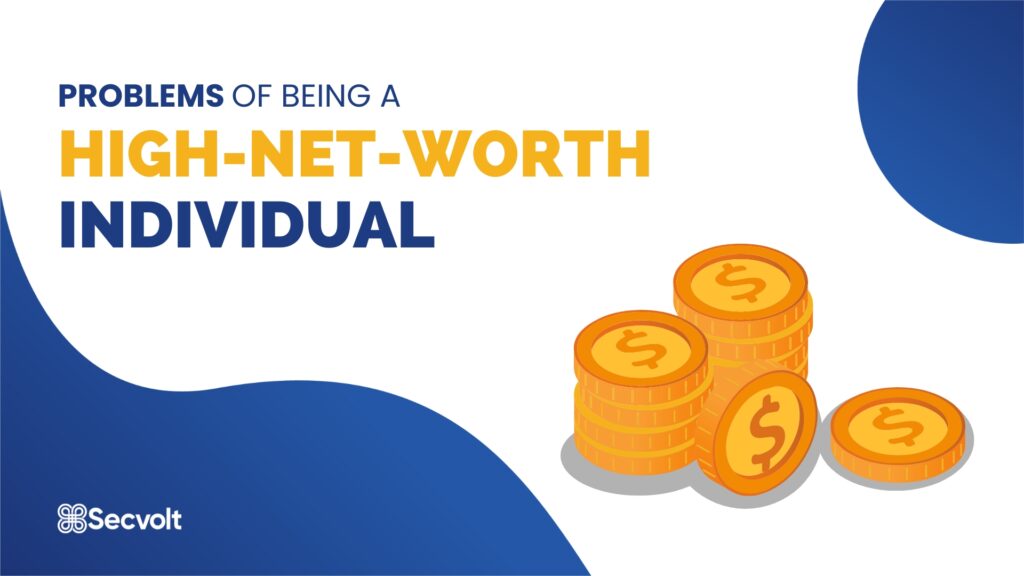 Problems of Being A High-Net-Worth Individual
Following are some disadvantages that come along with massive numbers in your account:
Higher tax liability- HNWIs may be subject to higher tax rates, reducing their disposable income and significantly impacting their wealth. High-net-worth individuals, like all taxpayers, are responsible for paying taxes on their income, capital gains, and other taxable events. 
In addition to income tax, HNWIs may also be subject to other types of taxes, such as:
Self-employment tax – If an HNWI has a business or is self-employed, they may be required to pay self-employment tax. This tax covers the individual's contribution to social security or medical care.
Estate tax – If a high-net-worth individual has a large estate, they may be subject to estate tax when they pass away. The estate tax rate is currently 40% for estates with a valuation of $11.7 million (tax years 2021 & 2022).
Gift tax – If an HNWI makes gifts to others that exceed certain thresholds, they may be subject to the gift tax. The gift tax rate is currently 40%.
If you need some ideas about what to read next, here they are:
Complicated estate planning- HNWIs may need to carefully plan for the distribution of their wealth to ensure that it is carried out how they want it to be.
Limited financial products and services- HNWIs may have specific financial needs that are not always well-served by traditional financial products and services, which can be frustrating.
Asset protection– HNWIs may want to protect their assets from creditors, lawsuits, and other threats. Trust, insurance, and other estate planning tools can help accomplish this.
Inheritance challenges– If a high-net-worth individual owns a business, they will need to consider how the company will be managed and passed on after their death. This can be a complex process and may involve the use of buy-sell agreements, trusts, and other estate planning tools.
Family dynamics – Estate planning can involve difficult decisions about the distribution of assets and the roles that the family members will play in managing the estate. HNWIs may need to navigate complex family dynamics and ensure that their estate plan reflects their legacy.
These are some pitfalls or demerits of being a high-net-worth individual. Now, you must be wondering what the solutions to these problems are. We will discuss those in the following paragraph.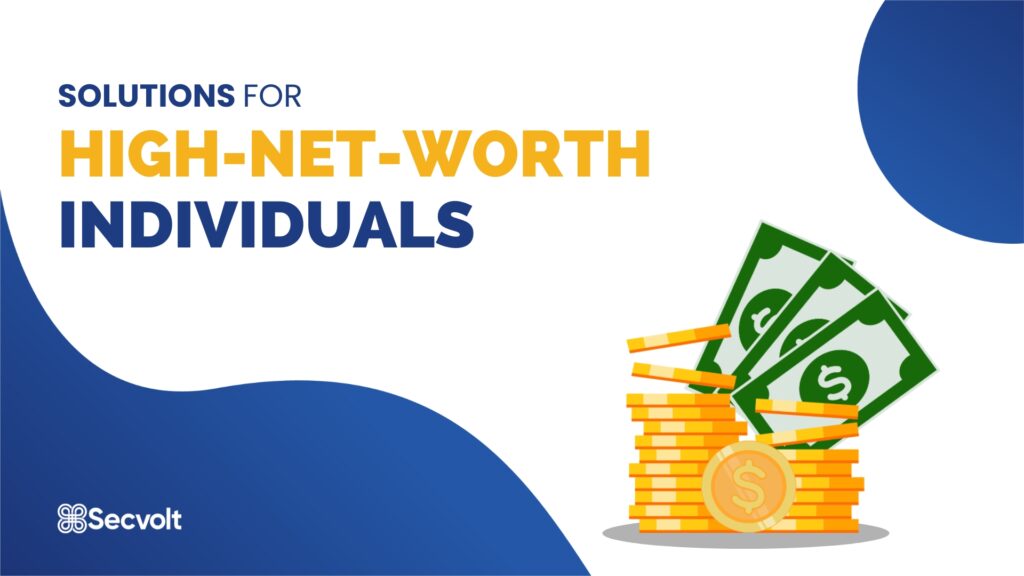 Solutions For High-Net-Worth Individuals 
We have discussed the problems or disadvantages associated with being an HNWI. A few ways in which HNWIs can avoid financial pitfalls are as follows:
Work with trusted advisors – One of the critical ways that HNWIs can avoid financial pitfalls is by building a team of trusted advisors who can help them to make informed financial decisions. This may include financial planners, accountants, lawyers, and other professionals who can provide guidance on a range of wealth management issues.
Diversify investments – Diversifying your investment portfolio can help to mitigate risk and protect your wealth. This may involve investing in various asset classes, such as stocks, bonds, real estate, and alternative investments like hedge funds. Hedge funds like Secvolt can help you make extraordinary figures as well as give you other benefits such as diversification and risk management. 
Engage in proper tax planning – Proper tax planning can help HNWIs minimize their tax burden and maximize the wealth they can pass on to their heirs. This may involve strategies such as setting up trusts or charitable foundations or taking advantage of tax-advantaged investment vehicles.
Develop a comprehensive estate plan – A well-thought-out estate plan can help ensure that your wealth is distributed per your wishes after you, with minimized taxes and other costs. This may involve setting up trusts, wills, and other legal documents.
Consider alternative investments – One solution that may be particularly beneficial for high-net-worth individuals is to consider investing in alternative investments like hedge funds. Investing in a hedge fund like Secvolt can offer HNWIs a range of other benefits in addition to its potential for higher returns. 
Manage risks carefully – It's important to consider the risks associated with any financial decision and to have a plan to manage them. This may involve working with advisors to develop a risk management strategy. 
Make decisions based on sound financial principles – It's easy to let your emotions cloud your monetary judgment, but it's important to stay level-headed and base your decisions on sound financial principles. This may involve seeking the advice of trusted advisors or taking the time to research and understand your options thoroughly.
These are some ways how HNWIs can overcome the challenges related to their finances & wealthy investments. In the final section, let us look at an investment alternative that has been providing HNWIs with outstanding wealth management services and is a one-stop solution for the investment portfolio of the wealthy. 
The Bottom Line
Being an HNWI comes with its own set of challenges and concerns. From complex wealth management to higher tax liabilities, HNWIs may face a range of issues that can be difficult to navigate. It's vital for HNWIs to be aware of these challenges and have a calculated high-net-worth investment strategy to overcome them. 
Working with trusted advisors, diversifying investments, engaging in proper tax planning, and developing a comprehensive estate plan are just a few of the ways how HNWIs can protect and grow their wealth. 
Additionally, the professional management and diversification offered by hedge funds like Secvolt can provide HNWIs with the peace of mind that comes from knowing their investments are in capable hands. As a quantitative hedge fund, Secvolt utilizes advanced quant models and data-driven short-term trading strategies. This approach can mitigate risk and generate amazing results for investors. 
By carefully considering the potential advantages of investing in a hedge fund like Secvolt, high-net-worth individuals can take an essential step towards overcoming the wealth and financial challenges they may face.