The FTX Crash - what went wrong with the $32 Billion Cryto Empire?
No matter how much we try, we can't avoid a recession. The fact is that recessions are a natural part of the economic cycle. But recessions are not just about failures and misery, they are more than that. A recession is an opportunity for a change in the economy. By changing our perspective, we can see the positive impact of a recession.
Today, we are going to discuss how you can protect yourself and can profit during an economic downturn.
What Are Economic Crises?
Economic crises are the specific periods of time during which the economy of a country or region experiences significant downturns, characterized by high levels of unemployment, low levels of production and trade, and declining gross domestic product (GDP).
Economic crises can have a range of causes, including financial instability, monetary policy mistakes, external shocks such as wars or natural disasters, and structural problems in the economy. A combination of factors can also trigger them. Economic crises can seriously affect individuals, businesses, and entire economies and lead to social and political unrest.
The coming economic crisis could become a turning point in your life if you know how to protect yourself during this economic downturn.
Let's have a look at how you can protect yourself during a recession.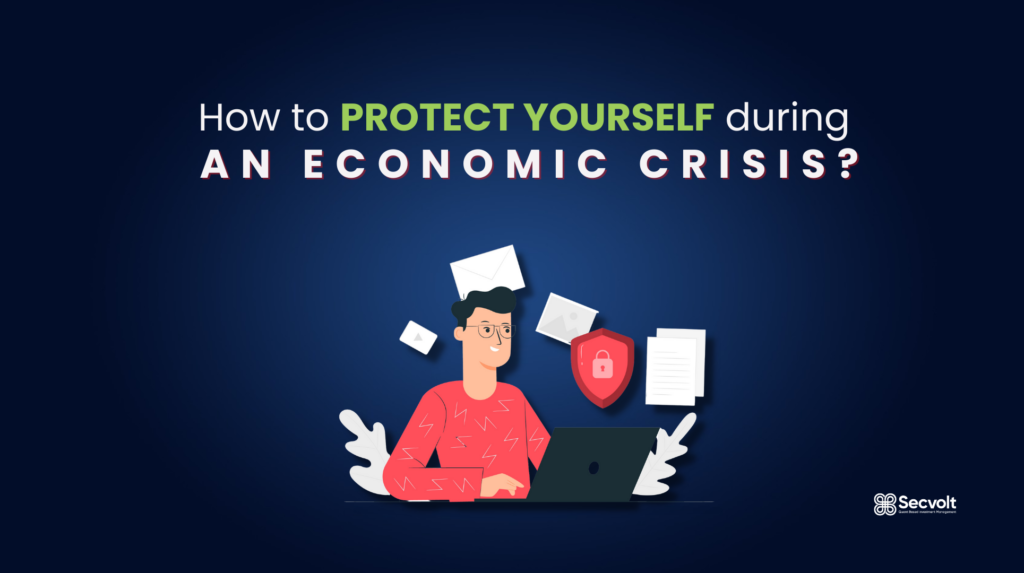 How To Protect Yourself During An Economic Crisis?
There are several steps you can take to protect yourself financially during a recession:
Create An Emergency Fund: A safety net of savings can help you with unexpected expenses and income fluctuations. Plan to save enough money to cover your living expenses for at least three to six months.
Reduce Debt: It's crucial to reduce high-interest debt during a recession, such as credit card balances. To obtain a reduced interest rate, think about debt consolidation or refinancing.
Keep A Check On Your Budget: Keep a record of your spending and budget. Find ways to reduce the cost of your expenses. Doing so will enable you to save more and spend less.
Investing In Alternatives: Alternative investments, like hedge funds, can help you optimize your earnings during a downturn. Investing in a hedge fund like Secvolt that has amazing quant models & risk management systems in place could be a game-changing move for you.
These are the steps you can follow to protect yourself from an economic crisis. Bearing in mind everything mentioned above, you can now take one step further and look at the tips through which you can make money during this financial crisis.
If you need some ideas about what to read next, here they are: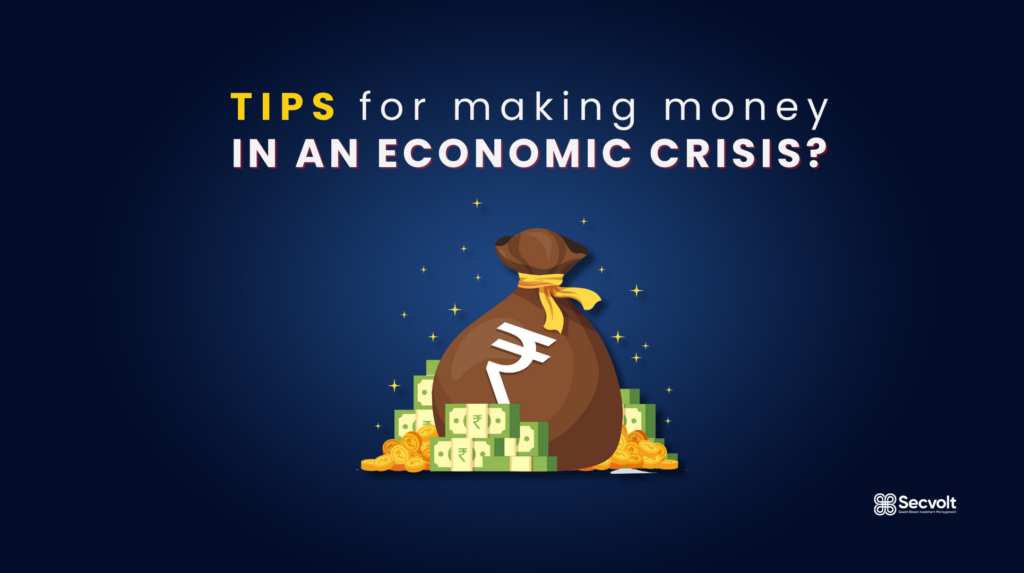 Tips For Making Money In Economic Crises
Following are some tips you can follow for making money during a recession:
Start A Side Hustle: During a recession, it might be beneficial to transform a talent or interest into a source of income. Think about setting up a side business or providing freelancing services in your industry.
Buy Low, Sell High: You might get good discounts on assets during a recession because of the weak market. Seek opportunities to purchase these assets at a discount and hang onto them until the market stabilizes.
Think About Buying Defensive Stocks: Some sectors, like healthcare and utilities, often perform reasonably well during a recession. Think about boosting your portfolio with defensive stocks that can stand strong against recession.
Watch Out For Government Programs: During a recession, governments establish initiatives or provide financial support to individuals and businesses. Consider how you can best utilize these resources.
All of these suggestions can assist you in making money during a recession. In the following paragraph, we'll talk about a few strategies for boosting profits during a recession.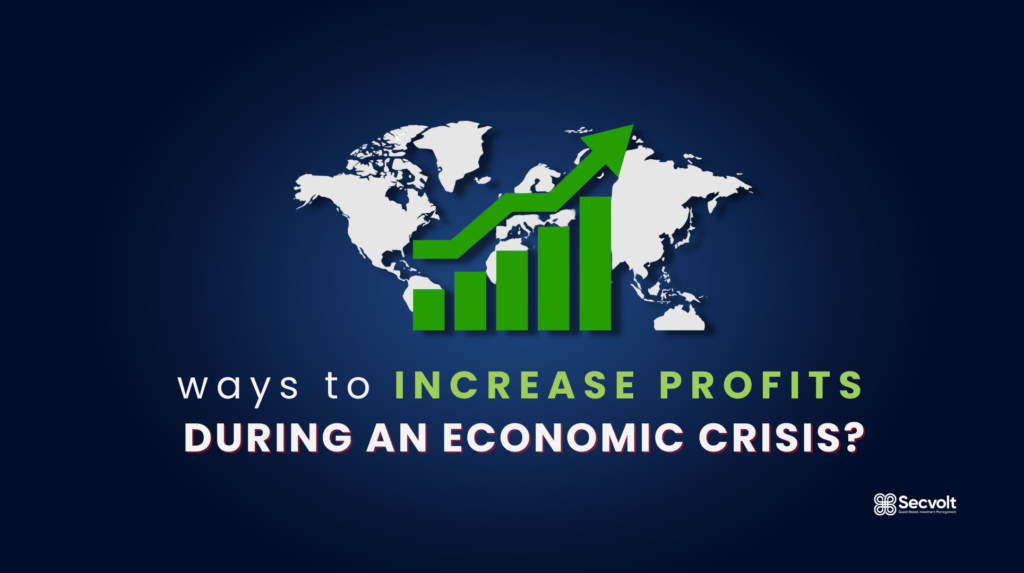 Ways To Increase Profits During Economic Crises
Here are a few strategies for boosting profitability during a downturn:
Cut Costs: Investigate methods of lowering costs, such as negotiating cheaper supplier pricing or simplifying processes.
Expand Into New Markets: Look for chances to break into new local or foreign markets.
Invest For A Long Term: In the long run, you'll have plenty of opportunities to sell high in the market. It might work out better for you if you buy when the market is down.
Keep Your Credit Score High: When credit markets become more restrictive, only people with a high credit score will be able to get a mortgage, a credit card, or another sort of loan.
All these steps can help you in increasing your profit in a recession.
In the next segment, we are going to talk about the benefits of an economic crisis.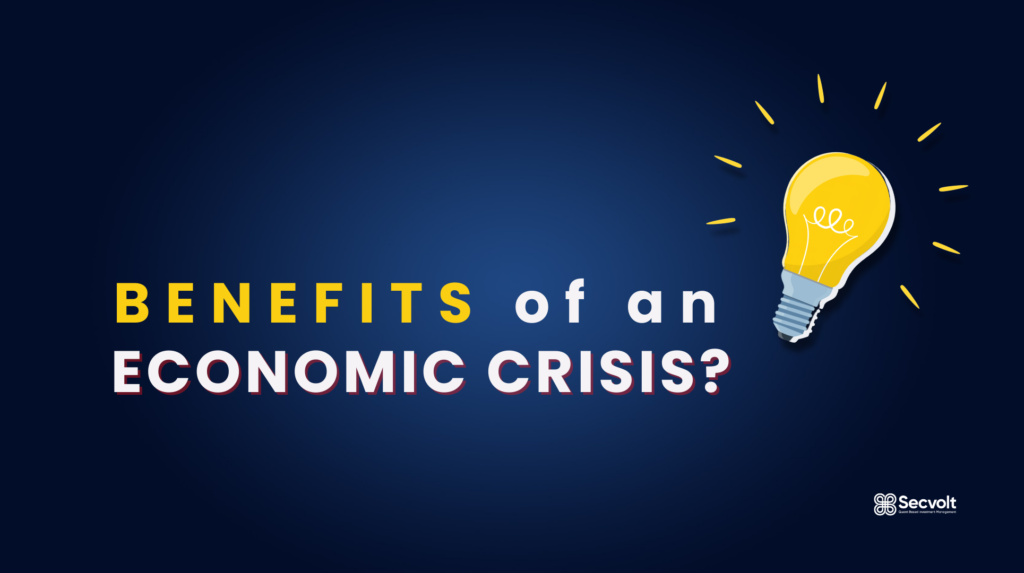 Benefits of Economic Crisis
The negative effects of a recession, such as job losses and economic instability, can outweigh any possible advantages by a significant margin, but the positives still need to be considered. There are some potential benefits that may arise during a recession. Let us look at them-
Reduced Competition: Some businesses may go out of business during a recession, which can lead to less competition for surviving businesses.
Opportunities To Buy Assets At Discount: A recession can present opportunities to buy assets, such as real estate or stocks, at discounted prices.
Government Support: Governments may implement programs or offer financial assistance to help businesses during a recession.
Falling Asset Prices: If asset prices fall, buying a house can become more affordable and advantageous for first-time buyers. It could lessen wealth disparity.
If you are willing to enjoy all these benefits in a recession, you need to know where you should invest. In the last paragraph, let us look at an investment alternative that can help you fight against recession.
The Bottom Line
Recession is an inevitable part of the financial world. Often it is unpredictable and can cause different impacts on different people, but you can prepare yourself for the crisis and invest accordingly.
This could only happen if you focus on investing more and spending less. You can prepare yourself for the coming crisis by following the above-mentioned tips. And if you are looking for help to stand against the recession, investment alternatives like Secvolt can provide you with all the necessary factors & make this downturn easier for you and your portfolio.
Secvolt is a hedge fund that employs highly efficient quant models and effective short-term trading strategies, giving them leverage over market volatility. Owing to their effective risk management system, you don't have to worry about market movements & risks. It is a solution that lessens the impact of inflation, recession, and other economic downturns on your portfolio.
To know more, visit www.secvolt.com