Questions To Ask Before Finalising A Financial Planner
Have you ever gone on a date with a questionnaire prepared by your friend? Or do you have those friends who orient you on each step before you find your soulmate? They would stalk their social media profiles, go back in history, and look between the lines. You are lucky to have such friends because they want the best for you. 
Are you wondering why Secvolt, an investment management company, is talking about all this today? No, we are not going to help you find your soulmate. But what we can surely help with is finding your financial soulmate. Today, we are going to give you a detailed overview of questions for a financial planner, investment questions, and questions on financial planning. Before hiring a wealth manager, how you would have a few wealth manager' interview questions in mind; similarly, there are some general questions & questions on investment you need to ask before signing on with a financial planner. 
Let us start with a brief understanding of financial planning & financial advisor. Top Questions to Ask When Finalising A Financial Planner: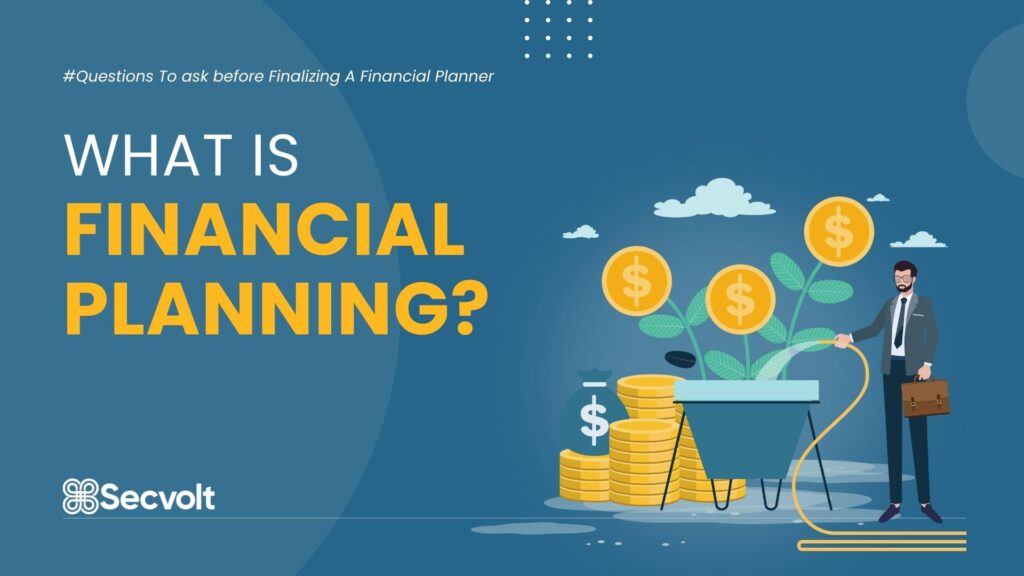 What is Financial Planning? 
Financial planning is having a detailed overview of your current financial situation, understanding your financial goals, and creating a well-versed outline for achieving those goals. 
Like any other plan, this also involves covering multiple aspects and delving into various financial arenas such as savings, investments, banking, hedge fund companies, taxes, wealth management companies, growth, financial markets, and investment management companies. 
Putting all these into a structure and creating the best for optimizing the result and achieving the end goal is the process of financial planning.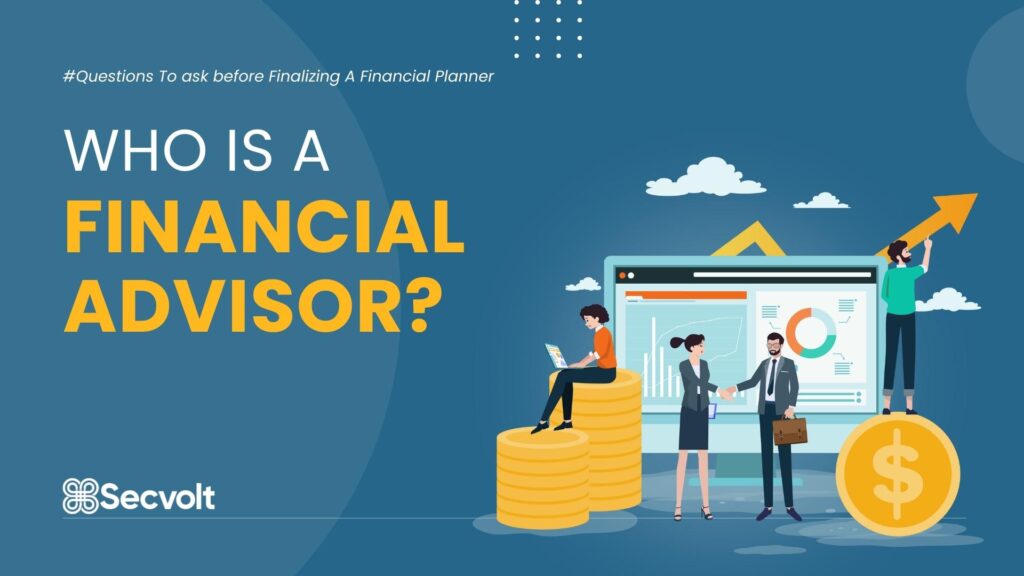 Who is a financial advisor? 
As the name suggests, a person or an organization that imparts financial advice is a financial advisor. Now, what do financial bits of advice include? Primarily, it is about what to invest the money in, where to put it, and how to do it. Then, it also involves choosing the right instrument, the right vehicle, and the frequency with which it should be done & checked. Thus, it goes well beyond just money! And that's the job of a financial advisor. It can be an individual, or there are many investment management companies & wealth management companies who are the best financial advisors in the market today. 
Now, you know what financial planning is and who a financial advisor is. Let us next understand the importance of a financial advisor.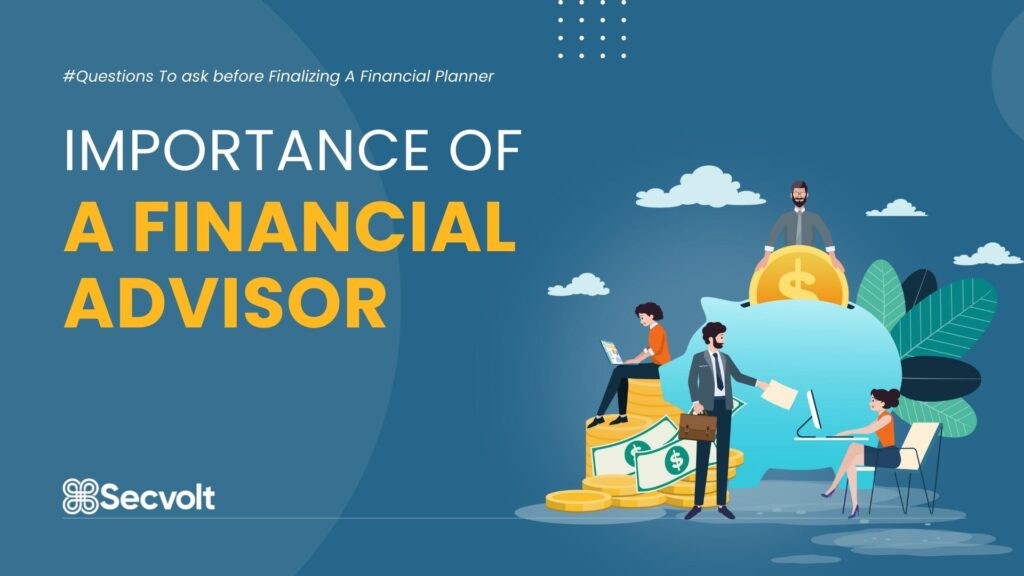 Importance of a Financial Advisor:
You know now who a financial advisor is. You also have a gist of what your financial plan might involve. But before hiring a financial advisor to give you the best financial plan, you need to know the importance of having a financial advisor. Have a look at the following points to understand the same:
Expert Opinion – We keep on saying this time & again that nothing can beat the finesse that comes with practice & experience, like Secvolt. An expert opinion on anything will only benefit you in the long run. Similarly, in finances, a financial advisor like an investment management company would fill in the loopholes you wouldn't even know existed.
Proper Structure & Outline- Today, you might have financial goals, ideas, and plans in your mind. You might have also written them down somewhere, but they are scattered. Now, this is where a financial advisor comes into the picture. For example, a wealth management company like Secvolt would help you get those scattered ideas into a proper structure. They would give you a detailed plan on how to go about it. Not only this, they would walk correspondingly with you at every step. 
Easier Achievement of Financial Goals– You are earning returns today, but you are aware that someone in touch with a hedge fund company has much higher returns than you. Everyone wants to make higher returns. So, whatever your financial goal might be, they'll be able to reach it much earlier than you. It is because their financial advisor has charted that path for them. Thus, having one for yourself would make achieving your financial goals somewhat easier. 
No Unnecessary or Additional Stress- Having the right financial advisor will take additional stress off your shoulders. Since your portfolio and finances are in the right hands or with a responsible investment management company,  you can rest assured about the financial aspect of your life. And that will automatically reflect on the other arenas of your life. 
So, these are some of the benefits of having a financial advisor and why it is crucial to have a financial advisor. Let us next discuss the fee structure of financial advisors. 
If you need some ideas about what to read next, here they are: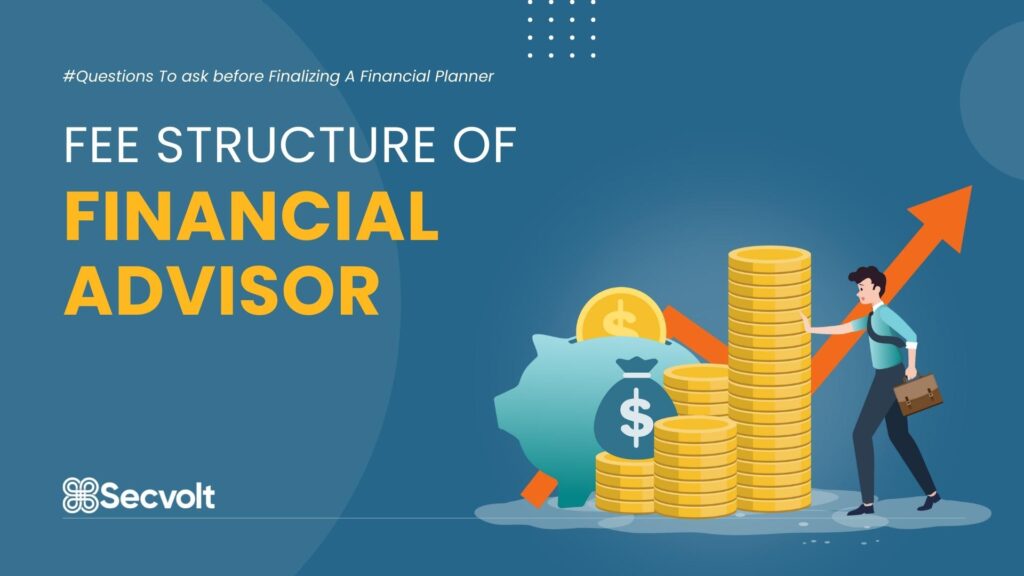 Fee Structure of Financial Advisors: 
Be it any service we avail, or any individual we hire, how much they charge plays a crucial role in our decision of selecting them. We will cover other questions as we move further, but their fee structure is a detailed & critical factor that you should look at before signing on with a financial advisor.
Like any other investment management company, wealth management company, or hedge fund company, financial advisors generally charge on the following grounds:
Fixed Fee/ Project Basis- Under this, they will charge you a fixed price for the services they provide. For example, financial advisor ABC is charging 100 dollars for creating a financial plan for you. Now, that is a fixed amount, irrespective of the time it might take. It is also known as the project-based fee, a fixed amount for a project. 
Hourly Fee- As the name goes, they charge as per the hours spent with you or on your finances. Usually, they keep a record of these things and send you the bills regularly, or if you have personal sessions with them, you can time them and see for yourself. 
Commission- Commission is like a sponsored price. They will promote specific investments or financial products. And the companies pay them for the same. In a way, they advertise those companies and make money out of you. But here, it is advised to be careful because that might not be in your best interest. (We will discuss the same in the fiduciary section of the questions coming further. Keep reading for the same.)
Assets under management- Here, the advisors charge a share or a percentage of your assets or portfolio. They are the ones managing and optimizing it. And their fee model depends upon a share of the same. In a way, this is a performance-based model. The better your returns, the more their remuneration! But like every other thing, this has two sides as well. 
So, this is the payment model used generally by any financial advisor, like an investment management company, a wealth management company, or a hedge fund company. 
We have discussed financial planning, financial advisors, their importance, benefits, and fee structure. Let us now discuss how you can choose the right financial advisor.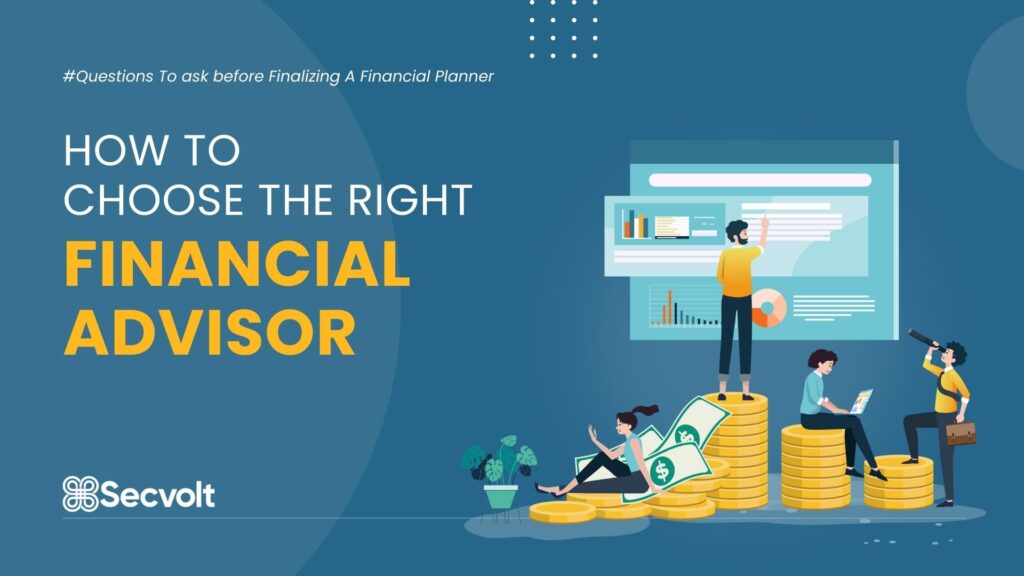 How to choose the right financial advisor? 
You must be wondering that you know there is a person, you know their importance and benefits, but the real question is how to spot them. How do you figure out who is the right financial advisor for you? 
Remember how your friend gives you a questionnaire before you go on your soulmate's hunt? Similarly, Secvolt, as your financial friend, has also prepared a list of investment questions or wealth managers' interview questions to help you find the right financial advisor. Without any further ado, let's see the questions for a financial planner: 
'Fiduciaries' have to put their client's interests above everything else, according to the law. Earlier, what used to happen or still what the non-fiduciaries do is that they only need to recommend products to you. Thus, they might recommend you the one which will earn them the highest commission. But a fiduciary will act in your highest interest. Therefore, this is one of the most important questions you will ask your financial advisor. 
You can also find fiduciary financial advisors from the databases of trusted platforms like XY Planning Network and the National Association of Personal Financial Advisors (NAPFA).
What is your Net Promoter Score?
When you shop for something online, what helps you understand whether the product is the same as what the website says? Customer reviews, right? No one can give you a better & more genuine review than the ones who have bought the same product. Similarly, you have a 'Net Promoter Score' in the case of financial advisors. The clients this financial advisor has worked with before give an average 'rating' based on their overall experience.  
What are your qualifications?
Every financial advisor must register themselves and pass specific regulatory exams to get a license. Also, having a designation such as a chartered financial consultant (ChFC), certified financial planner (CFP), or wealth management certified professional (WMCP) signals an advisor's ongoing education. You can find their meaning, their educational requirements, and a list of disciplinary actions, and you can cross-check from the Financial Industry Regulatory Authority's professional designations database. 
What is your financial strategy in general? How do you plan on investing my money?
In the first meeting, you can naturally not understand everything in depth, but asking this question will help you figure out whether or not your financial parameters are on the same page as your advisor's. For example, whether your advisor understands your risk tolerance should be a determining factor before signing up with them. You can also figure out how they might react when unexpected market situations arise. 
What are your goals, values, and vision?
If your investment management company, your advisor, or your wealth management company can define their financial goals & values in the first meeting, you will figure out multiple things. If your financial goals, vision, or values align with theirs, this relationship will go far (just what your friend will tell you about your soulmate). 
What would be the measuring scale of your actions & their consequences?
If, because of their actions, some unwanted situation arises, then it should be clarified beforehand how they will be covered. And it should be written what these unwanted situations could be. Having this clarity will avoid any confusion in the future. 
Who is your ideal client? What should I bring to the table? 
The answer to this question will make you understand if you fall within that criteria. If you do, you can rest assured that they will wholeheartedly look into your work & profile. 
So, these questions, like the wealth manager interview questions, will help you choose the right financial advisor. In the final section, look at one of the best wealth management companies.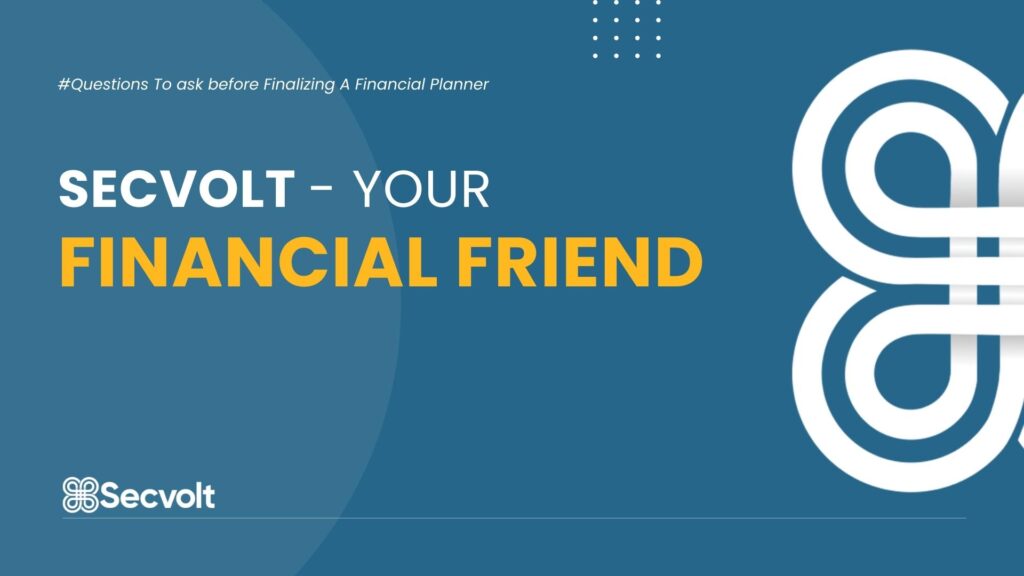 Secvolt- Your Financial Friend
Secvolt is a global investment management firm that, just like your friend, gives you the right financial advice and is your financial soulmate too. It is like killing two birds with one stone. Not only do we take care of all your financial needs & goals, but we also give you the best possible returns, returns that are higher than your expectations and well-deserved! 
Try this premium risk assessor tool today, and do a favor to your portfolio. Doing so will give you a detailed financial overview & the best financial advice you have ever received!