Managing Conflicts in Family Business: Strategies for Resolving Differences and Maintaining Harmony
In many respects, family companies are unusual. They confront the same issues as other businesses, such as competitiveness and financial management, but they must also cope with family relations. This can lead to confrontations that are particularly difficult to resolve. The capacity of family members to work well together is critical to the success of a family company, and disagreements can jeopardize that success.
This article will look at dispute resolution solutions in family companies. We will cover the most typical causes of family business conflicts, their impact, and the significance of resolving them.
We'll start with the unique challenges faced by family businesses. 
Unique Challenges in Family Business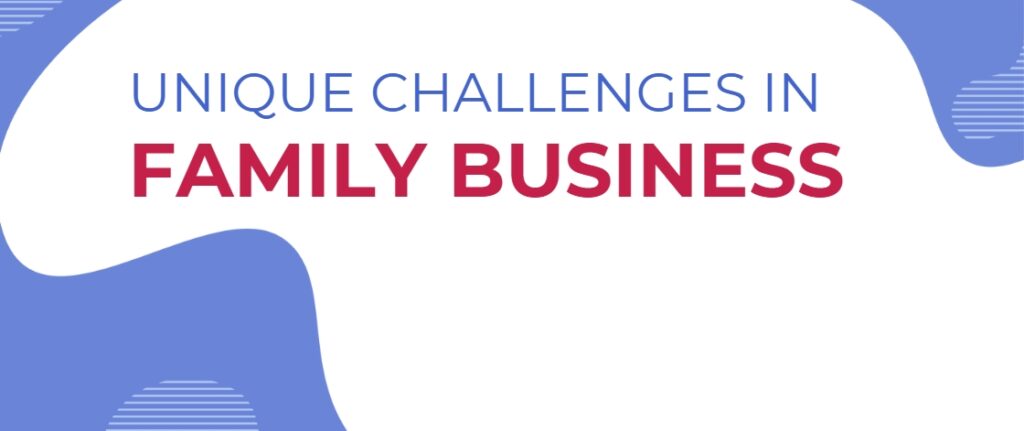 Family companies are special in many respects and encounter obstacles not shared by non-family businesses. While having a family-run business has many advantages, such as loyalty, trust, and shared values, a number of particular problems can make operating a family business more challenging. Here are some of the most typical issues that family companies confront.
Blurred Barriers between Family and Company:

It can be difficult to separate personal and professional interactions in a family firm. It may be difficult for family members to establish clear boundaries and distinguish between family and commercial matters. This might lead to disagreements and problems in making decisions.

Family Issues:

Family companies are especially sensitive to personal connection difficulties. Family rivalry, power battles, and financial issues can cause tension and conflict that is difficult to overcome.

Lack of Objectivity:

Family members may struggle to separate their emotional sentiments from business decisions due to a lack of impartiality. This might lead to judgments based primarily on what is best for individual family members rather than what is best for the business.

Limited Access:

A family business may be reluctant to hire outside talent or hire people with outside expertise due to limited access to outside talent. It can have a detrimental effect on the ability of the business to innovate and grow as a result.
Family companies encounter particular hurdles that might make managing and expanding the firm tough.
Next, we will learn about some common sources of conflicts in a family business. 
Common Sources of Conflicts in Family Business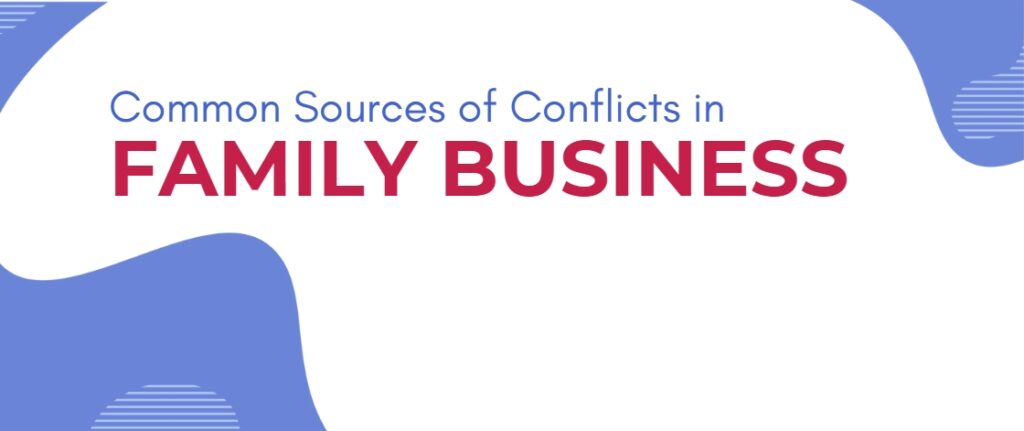 Family businesses are unusual in that they involve personal and professional connections, which can make conflicts more complex and difficult to handle. Controversy is a regular aspect of any business, but conflicts can rapidly turn personal and emotional in a family firm. Following are some frequent reasons for conflict in family businesses.
Generational Issues:

This may be a fantastic thing when different generations of the family are involved in the business. Having newer generations in the industry gives fresh perspectives. Younger family members, for example, may be inspired to apply cutting-edge technology. But, there may be issues. A parent who begins a business may regard it as his or her kid and may be opposed to allowing their actual children to make changes in how things are done. Younger family members may be disappointed by their inability to progress.

Communication Breakdowns:

Misunderstandings and disagreements can occur in any organization but can be extremely detrimental in a family firm. Family members may have various communication styles or may be afraid to express themselves for fear of sparking conflict. This might lead to miscommunication and damaged sentiments.

Role Ambiguity:

Roles and duties in a family firm are sometimes less clearly defined than in a non-family organization. Family members may play several responsibilities, and it is not always evident who makes choices or carries out tasks. This might lead to arguments and confrontations over who should do what.

Sibling Rivalries:

Sibling rivalries are a major source of conflict in family enterprises. Even in families with solid connections, hidden tensions or resentments might arise when family members work together in a business.
Family businesses are distinguished by their incorporation of personal and professional interactions. Conflicts might become more complicated to handle as a result. Recognizing the frequent reasons for conflict in family companies can assist family members in working more successfully together and building a stronger, more profitable company.
In the next part we will discuss dispute resolution tactics.
Effective Strategies for Resolving Conflicts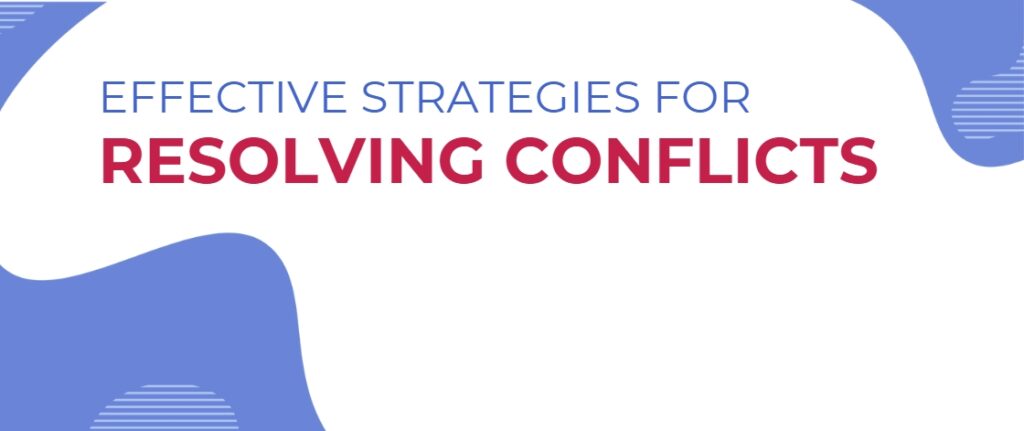 Disputes are unavoidable in any organization, but they may be especially difficult in family firms, where personal and professional connections can get entwined. Good dispute resolution is critical for any firm's success, but it is more critical in a family business with higher stakes. These are some effective dispute-resolution tactics for family businesses.
Open Communication:

It is essential for resolving issues in any organization, but it is especially critical in a family firm. Encourage all family members to voice their thoughts and concerns openly and courteously. Ensure that everyone gets an opportunity to be heard and actively listens to one another to fully comprehend diverse points of view.

Set a Clear Understanding:

When disagreements emerge, it is critical to understand where the other person is coming from. Put yourself in their shoes and consider the matter from their point of view. This might assist you in finding common ground and cooperating to create a solution that works for everyone.

Call in a Third Party:

Some issues are too tough to handle alone. In certain situations, bringing in a neutral third party, such as a mediator or consultant, can help to smooth the resolution process. A neutral third person can offer an impartial viewpoint and assist family members in finding common ground.

Create a Procedure for Resolving Conflicts:

Having a conflict resolution method: Having a clearly defined procedure for resolving problems can assist family members in working through differences more efficiently. Steps should be taken to identify the problem, acquire information, brainstorm solutions, evaluate options, and execute the chosen solution.
It's important to develop effective conflict resolution strategies to help family members work together more effectively and build a stronger and more successful company.
As we go through the following section, we will discuss the importance of managing conflicts and how to do so.
Discuss the Importance of Managing Conflicts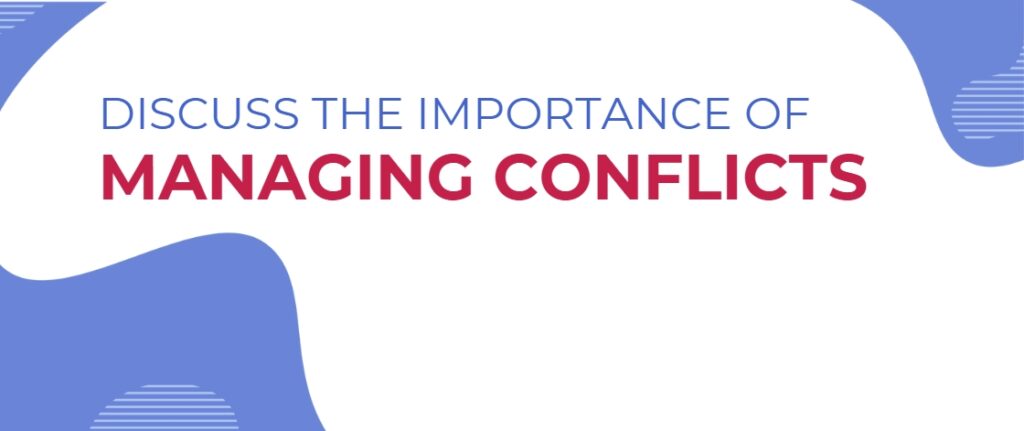 There will always be conflicts in business, and they can arise for several reasons. Conflicts are even more challenging in family businesses because personal and professional relationships are intertwined.
Here are some of the reasons why conflict resolution is so important.
Maintaining Family Ties:

Family companies are special in that they entail both personal and professional interactions. Disputes may rapidly turn personal and emotional, resulting in strained relationships and family alienation. Even in commercial differences, effective conflict management may assist in sustaining family connections.

Avoiding Legal Issues:

In a family business, conflict can occasionally develop to the point of legal action. This may be expensive and time-consuming, harming both business and family connections. Family members who manage their problems successfully might avoid the need for legal action and discover more productive methods to address their issues.

Sustaining a Positive Corporate Culture:

Conflict may harm the company culture, resulting in low morale and work satisfaction. By properly handling disagreements, family members may help to create a strong workplace culture in which everyone feels appreciated and respected.

Promoting Open Communication:

Conflict resolution can promote open communication among family members. When disagreements are addressed productively, trust and collaboration are created, making it simpler for family members to communicate and collaborate efficiently.
Conflict resolution is crucial in any organization, but it is more critical in a family firm because personal and professional connections are linked.
Bottom Line 
Finally, handling disputes in family companies necessitates a unique set of talents and tactics not found in other types of organizations. Family companies have particular problems, such as blurring boundaries between family and business, family issues, a lack of impartiality, and limited access, making it difficult to run and expand the firm. Generational difficulties, communication breakdowns, role ambiguity, and sibling rivalry are common drivers of conflict in family companies. They can produce personal and emotional disputes that necessitate particular dispute-resolution strategies. Open communication, clear understanding, and bringing in a third party when necessary are all effective dispute-resolution tactics. Conflict resolution and harmony are critical for the long-term prosperity of both the family and the company.
Elevate your financial game & join the ranks of elite investors with Secvolt's exclusive newsletter. 
Elevate your financial game & join the ranks of elite investors with Secvolt's exclusive newsletter. 
Don't just dream of wealth; achieve it with Secvolt. Schedule a call today for personalized guidance on your investment strategy and join the ultra-successful.
Ready to unlock your wealth's truest potential & cherish affluence?
Secvolt, our hedge fund, sets the bar high with a record-breaking performance of 262% returns in 2022. With the brilliance of our highly advanced quant models and the efficiency of our risk mitigation protocols, we are yet to see a loss!
We're the perfect ally to help you succeed financially and build the lasting legacy you have always aspired for.
Get in touch today. YOUR LEGACY AWAITS YOU…