The Role of Family Members as Investors in Family Business: Strategies for Maximizing Returns and Minimizing Risks
Individuals or groups that invest in family-owned and run enterprises are referred to as family business investors. These investors might be family members or outside investors who recognize the potential in a family business and wish to help it develop or expand. 
Family members play a crucial part in family businesses; they are the cornerstones of this little or large family business. In the world of family businesses, there are high stakes, substantial risks, and convoluted rewards. If you work in a family business or are thinking about establishing one, you're in for a wild ride. It is a mixture of a complex network of decisions and behavior at work, involving family dynamics, business strategy, and personal relationship.
This blog will look at family members' roles as investors in family enterprises and give ideas for maximizing rewards while avoiding risks. It will go over the significance of family members as investors in terms of good communication with investors. And at the end, there would be case studies of certain family businesses that are serving as models for those just getting started.
But for a start, we need to understand the importance of family members as investors in the family business. 
Importance of Family Members as Investors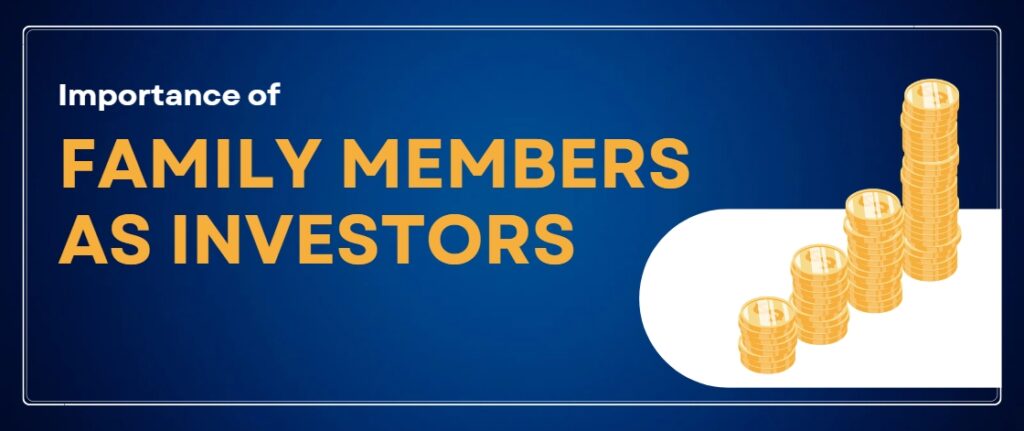 For various reasons, family members may be valued investors in a business.
Interest-

They may have a vested interest in the investment's success since they are investing in a family member's business or initiative. This can result in increased dedication , engagement, trust and understanding between the investor and the entrepreneur.

They are Ready to take Risk-

Family members may be more ready to take risks than other investors since they have a longer time horizon and are more patient in seeing a return on their investment.

Best Advisor-

Family members may be able to provide useful advice and assistance since they are more familiar with the entrepreneur's aims, aspirations and the business atmosphere.

Improving Family Relations-

Investing with family members may help improve familial bonds and foster a feeling of common purpose, which can be financially and emotionally helpful.
Overall, family members may be useful investors for entrepreneurs, giving support, guidance, and financial resources that can aid in the growth of a business.
On the other hand, they can be a pain in your business, too; in the next section let's discuss the pros and cons of having a family member as an investor. 
What are the Pros & Cons of having Family Members as Investors?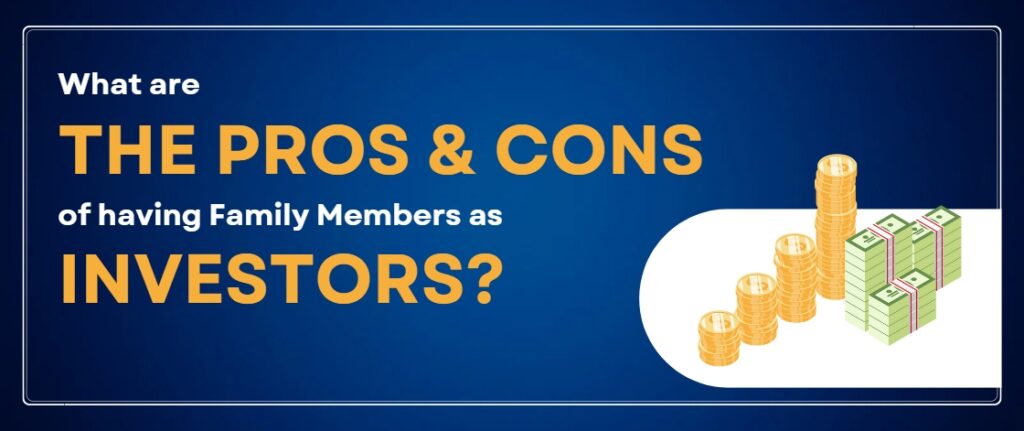 Having family members invest in your business may offer both advantages and disadvantages. Here are some of the pros and cons of having family members as investors:
Pros
Trust and Support-

Family members are frequently more inclined to invest in your business. They may be more likely to offer emotional support and counsel when things go rough.

Flexible terms-

Family members are frequently more ready than outside investors to invest on more flexible conditions, such as lower interest rates or more time to return the loan.

Long-term commitment-

Because they have a personal stake in your success, family members are frequently more likely to persist with your business through thick and thin.

Reduced costs-

Receiving finances from family members may be less expensive than other financing sources, such as bank loans, because there may be no need to pay interest or other expenses.
Cons
Relationship Strain-

If the business does not work properly or if there are disagreements about the business's direction, it can affect family relationships.

Interference in management-

Family members who invest in your company may assume they have a right to say how it is run, which can lead to disagreements and disputes.

Loss of control-

If family members invest a significant amount of money in your firm, they may expect to have a say in crucial business decisions, restricting your influence.

Lack of professionalism-

Mixing family and business can often lead to a lack of professionalism and commercial discipline, which can be harmful for the organization in the long run.
Ultimately, having family members as investors might be a smart option for certain entrepreneurs, but before making any decisions, it is critical to thoroughly analyze the possible positives and negatives. It is also critical to be distinct.
So, let's deeply dive into the techniques we should consider while investing in a family business.
Strategies for Family Members as Investors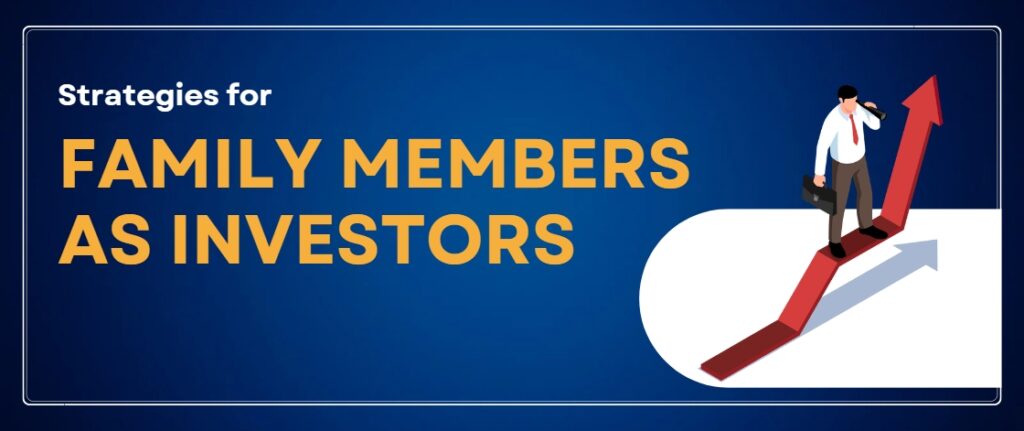 Here are some investment methods for family members:
Begin Small-

Investing may be intimidating, especially for beginners. Family members can begin with low-risk investments such as mutual funds or exchange-traded funds (ETFs). This will help them gain confidence and progressively expand their investment portfolio.

Have a Contingency Plan-

A contingency plan is essential in an unforeseen catastrophe, such as a job loss or a medical emergency. Family members should have an emergency fund of at least six months living expenses. This can save them from liquidating their investments or incurring high-interest loans during a downturn.

Get Professional Advice-

Investing may be complicated, and family members may lack the information or skills to make sound financial decisions. Getting expert financial guidance can assist family members in making educated investment decisions that align with their goals and risk tolerance.

Rebalance your Portfolio Regularly-

Family members' portfolios might become imbalanced when investment values vary. Regular rebalancing can assist them in maintaining a diverse portfolio that is aligned with their goals and risk tolerance.
Coming to the end of this blog and as we've discussed, investing as a family can be a great way to achieve financial goals, but it requires careful planning and execution. One way to succeed in family investing is by studying successful family businesses.
Case Studies of Successful Family Business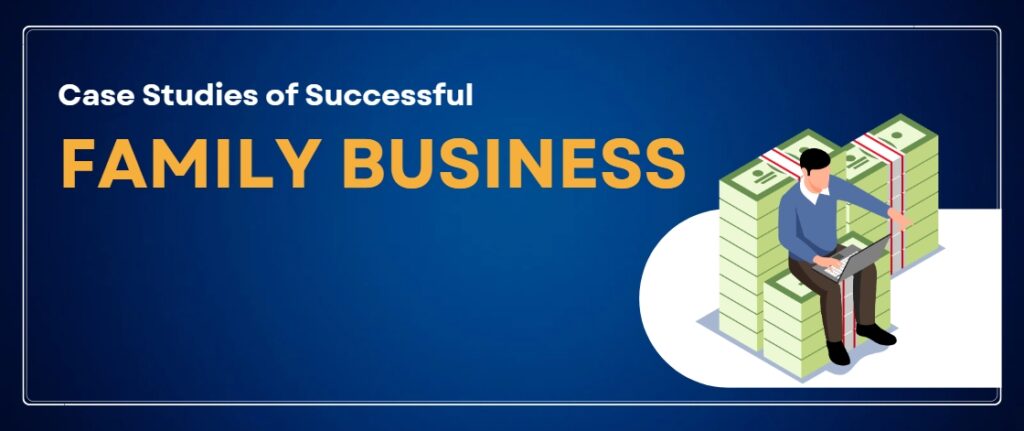 Many successful family businesses have attained long-term financial success and stability via meticulous planning, smart investments, and an emphasis on innovation. These are some instances of successful family businesses:
Finally, these successful family enterprises provide important case studies for family investors seeking long-term financial success.
The Bottom Line
Investing as a family may be an excellent method to attain financial objectives, but it takes careful preparation. Family members may be essential business investors, providing support, expertise, and financial resources to help a company flourish. On the other hand, having family members invest in your firm might have advantages and disadvantages. Family members should start small, have a backup plan, seek expert counsel, and adjust their portfolios regularly to optimize returns and avoid risks. Before making any decisions, it is also necessary to properly consider the potential benefits and drawbacks and one firm can help you out in maximizing your returns and minimizing risks. 
Elevate your financial game & join the ranks of elite investors with Secvolt's exclusive newsletter. 
Elevate your financial game & join the ranks of elite investors with Secvolt's exclusive newsletter. 
Don't just dream of wealth; achieve it with Secvolt. Schedule a call today for personalized guidance on your investment strategy and join the ultra-successful.
Ready to unlock your wealth's truest potential & cherish affluence?
Secvolt, our hedge fund, sets the bar high with a record-breaking performance of 262% returns in 2022. With the brilliance of our highly advanced quant models and the efficiency of our risk mitigation protocols, we are yet to see a loss!
We're the perfect ally to help you succeed financially and build the lasting legacy you have always aspired for.
Get in touch today. YOUR LEGACY AWAITS YOU…