Who is keeping the Investors 'Warm' in this 'Crypto Winter?'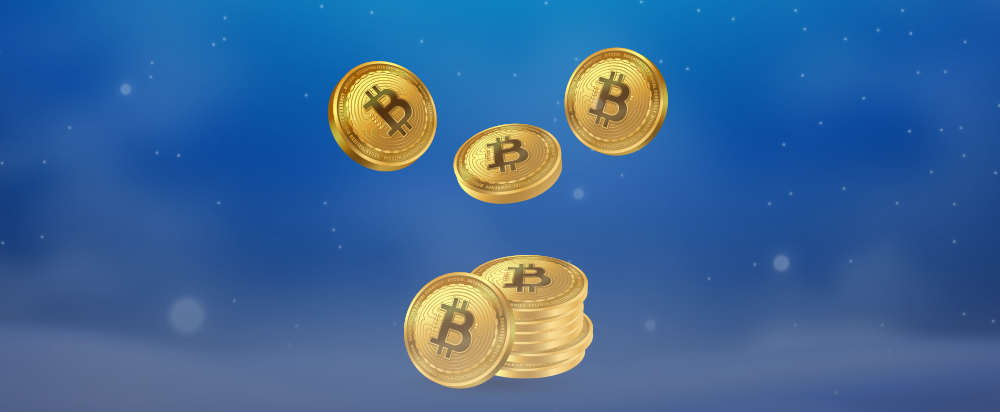 It was the winter of November 2021, almost a year back, Bitcoin rose to its highest-ever price. The Crypto community was rejoicing, epics were written on Bitcoin destroying the Fiat regime and plans were made for a Decentralized world. Well, the world didn't know that they were about to witness a long 'Crypto Winter'. The central banks around the world started tightening the money supply in the quest to quell the inflationary fire, inadvertently also destroying the crypto market. 
In the next three months, the crypto market almost halved from its peak. Investors didn't know what had hit them. The crash in the crypto market coincided with a crash in the broader market. No wealth management company could forecast upcoming events. Even if they could, they weren't prepared for that. The party that started after the unprecedented liquidity infusion following the onset of the Covid-19 pandemic had come to an abrupt end.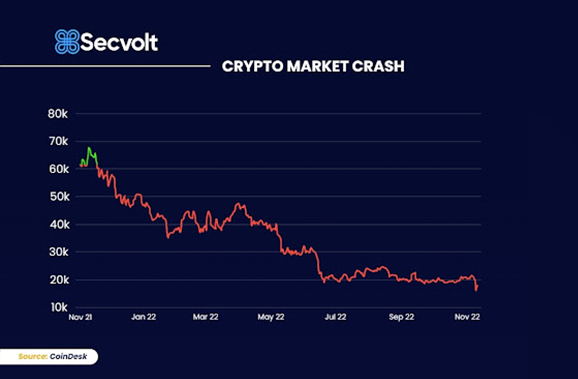 The mood was quite sullen in Dubai, which forms the nucleus of the Middle Eastern Business Community. Dubai was slowly becoming the most happening place to do business in cryptocurrency, especially after the Government of UAE passed the VARA law that eased the setting up of crypto firms in Dubai. However, the falling markets unnerved most investors. Investors were worried about how long will crypto bear market last. They didn't know whether to hold or invest!
Nikolai Beckers, the erstwhile CEO of Deutsche Telekom France and advisor to multiple organizations, was in a similar situation. He had camped in Dubai to get access to new and better opportunities. He could see how investment management companies were struggling to survive the market. However, the falling market had disturbed all his calculations, until he came across a fund, working on an almost unbelievable Quant system. Secvolt, a firm that was registered officially just a month back in February 2022, was claiming to make a profit even in this market. Well, their system was in place for the last 4 years and they have made a profit each month since inception.
Secvolt, Inc. was formed out of a desire to create generational wealth. A system that sustains the vagaries of the market, a product that is resistant to forces of recession and inflation, which is capable of safeguarding your portfolio from the crypto winter. It is built on a Quant system that combines historical patterns, sentimental analysis, and market trends to give out results with consistent accuracy. This proprietary system started operating in the last quarter of 2018 and has, since then, generated a cumulative profit of nearly 200% every year. This year, which has been catastrophic for most Hedge Funds and investors, has turned out the best in business for Secvolt. 
Secvolt has been growing at an incredible pace ever since its establishment and boasts of High Net-worth clients from India, the Middle East, and Europe. The requests for inquiries are coming from multiple quarters, all due to word of mouth from initial investors, and the company has to reject a few investors due to opaque sources of funds. Secvolt is very clear about client privacy and the due diligence of investors before getting them onboard.
The firm has outperformed all the major indices this year and, in fact, has done so by quite a margin since 2018. The gap is just too wide in most cases to ignore. Like the S&P 500 gave a 31% return in its best year 2020, Secvolt gave a cumulative return of 193% that year. The FTSE ADX index, the benchmark for UAE in fact, was at a loss of 2% that year.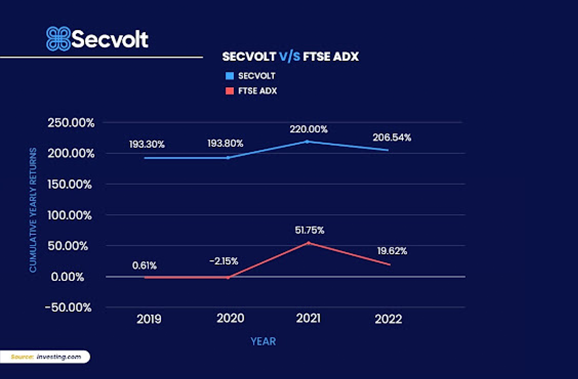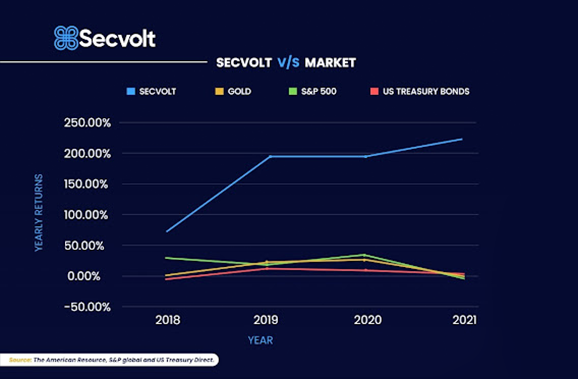 An investor called to inquire whether Secvolt can give 3x return in a month; and the management had to make them understand that they don't own the proverbial 'Money printing machine'. They believe in superior Risk management and accept money only at sustainable risk levels. They don't promote unrealistic claims, even if that costs them a client.
Some of its clients still think about what if they hadn't invested in Secvolt. They feel content and focus on growing their business when Secvolt is focusing on growing their wealth. They don't have to fear a recession. When questioned about the incoming recession, Mr. Divakar says, "Our Quant and Risk Management System is capable of handling even the worst fluctuations in the market. We believe in fundamentals of our trade, not fundamentals of the economy," which pretty much sums up the idea of Secvolt. 
If you are terrified of past incidents like the Crypto bubble 2021, FTX crashes, or bear market, or want to pull your assets from the market in fear of the next crypto crash, Secvolt can be your shield. The only question is, "Are you ready to face the market and continue building your legacy?" If you are struggling with answering this question, Remember why you started!